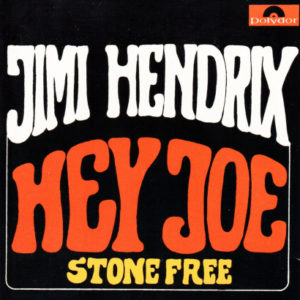 The first Jimi Hendrix single is released: "Hey Joe." The song is about a guy shoots his "old lady" after catching her cheating.
Hendrix is fronting the band Jimmy James and the Blue Flames in 1966 when he leaves for the fertile musical fields of England at the urging of his manager, Chas Chandler of The Animals. Chandler sets him up with a new band: The Jimi Hendrix Experience, a power trio of Hendrix, drummer Mitch Mitchell, and bass player Noel Redding. They record "Hey Joe" and a Hendrix original called "Stone Free," and peddle it to Decca Records, where it is rejected by the same guy who turned down The Beatles. Polydor takes it in a one-single deal and issues the song in the UK, where it lands at #6 in February 1967. Reprise Records issues it in America a few months later, but it goes unnoticed.
England is enthralled by Hendrix, whose next two singles, "Purple Haze" and "The Wind Cries Mary," reach the Top 10 in the UK. It takes a while for Americans to discover Hendrix, whose debut album Are You Experienced gradually earns him a following, but not before he suffers the indignity of opening for The Monkees. By 1969, his native country is all-in, and Hendrix is the headliner at Woodstock, where he suffers another (although well-paid) indignity: going on the morning after the festival was scheduled to end, since it ran long. The last song in his set is "Hey Joe."
A scorching blues number, "Hey Joe" was written by a singer named Billy Roberts, who played it in and around New York City in the early '60s. In 1966, The Byrds, The Leaves, and Love released uptempo renditions, and a folk singer named Tim Rose did a slower version, which is what Hendrix used as a template, adding a more appropriate backing to the murder ballad.
The Hendrix cover becomes the standard, but many other artists record it as well, covering an array of styles. Among the most popular by genre:
Pop: Cher, 1967
Hard Rock: Deep Purple, 1968
Avant-garde: The Mothers Of Invention, 1968
Soul: Wilson Pickett, 1969
Punk: Patti Smith, 1974
Jazz: Brad Mehldau, 2012